LUXOR SHRINERS
The Ancient and Arabic Order of the Mystic Shrine has a rich and illustrious history. The first Shrine Temple was organized in 1872 in the New York City Masonic hall and called Mecca Temple.
Initially it was formed as a fraternal order in which Masons could join together in fellowship and fun. It's North American membership numbers over 600,000 with about 1400 members in New Brunswick.
At the heart and soul of the Shrine is the Shriners Hospitals for Children. First opened in 1920, there are now 22 hospitals across North America, with the nearest in Montreal.
Recognizing a need in the area of severely burned children, the Shrine opened its 3 Burns Institutes in the mid 1960's. In the early 1980's, the Shrine founded its Spinal Cord Injury Units in 3 existing Shriners Hospitals.
The hospitals have a three fold purpose: to help children, to conduct research and to train medical personnel.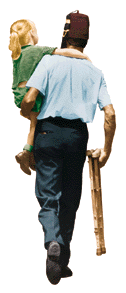 All care for treatment at Shriners Hospitals is totally FREE of charge to patient and their family, including transportation, meals and accommodation. In New Brunswick, we assist over 225 children each year.
With a total budget exceeding $420 million annually, where does all this money come from? ... gifts, bequests, annual members dues and fund raising events.
As a Noble of the Shrine fraternity, you can be a part of this great philanthropy, helping thousands of children each year.
No Man ever stands so tall, As when he stoops to help a child!

Links of Interest



Ancient Arabic Order Nobles of the Mystic Shrine Luxor Temple

Upper St. John Valley Shrine Club

North Shore Shrine Club

Moncton Shrine Club

Fredericton Shrine Club

Charlotte County Shrine Club St. Stephen

Sussex Shrine Club

St. John Shrine Club

Miramichi Shrine Club
There are numerous Shrine Units, mostly based in Moncton, St. John or Fredericton. For the most part these units do not have a fixed schedule of meetings. Most of the members represented in these units are also represented in the Shrine Clubs.

You are visitor
in New Brunswick